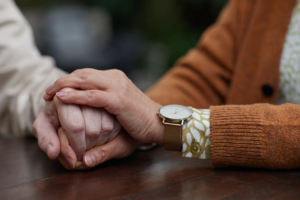 Photo Credit: Pexels Article written by Brittany Fisher: Financiallywell.info
When is it Time to Sell Your Home and Move to Assisted Living?
No caregiver wants to admit they're in over their head. However, for many of us there comes a time when we can no longer give our loved ones the care they need. Whether they've been living on their own and it's becoming dangerous, or they've been living with you and their needs are too much, assisted living can be a loving solution. This is a big and often difficult choice. Here are a few solid signs that your loved one needs the kind of full-time, professional care they'll get in an assisted living facility:
Forgetting Medication
If your loved one needs daily medications, it's important that they take their prescribed dose at the right time every day. However, memory problems can lead to missed doses, or even accidentally taking meds twice, which can quickly become very dangerous and even lead to hospitalization. In assisted living, the medical staff manage medications for the seniors they serve, eliminating the risk of missing vital doses or accidentally taking too much.
Becoming Accident-Prone
Has your loved one become clumsier lately? A certain level of clumsiness is a normal part of aging, and it isn't necessarily a sign that they need a safer living space. However, Mayo Clinic notes that if they've always got a new story about trips, bumps or falls, you might need to worry. Slips and falls are particularly dangerous for older adults who don't have the reflexes or coordination to prevent serious injury. If they break or strain a body part in a fall, Medical Alert Advice notes the recovery can be extraordinarily difficult.
Assisted living facilities tackle this issue from two sides. For starters, they're easier to navigate and present fewer obstacles or hazards than most traditional homes. This means your loved one is less likely to have an accident in the first place. Moreover, if they require transferring assistance, such as when getting out of a chair, there's staff on hand to immediately provide help. This combination makes your loved one far less likely to be hurt while going about their day.
Neglecting Financial Obligations
There are several reasons older loved ones sometimes neglect bills or other financial obligations. Forgetfulness is a common and simple cause. When memory starts to fade, habits we take for granted like paying bills can slip away. Sometimes, it can also be an indicator that their fixed income isn't stretching to meet their needs.
In either case, assisted living can take away the burden. Since their living costs are all included in the base price, they don't have to worry about keeping track of many different bills. Moreover, there are options available at nearly any price point, so you can find an option that easily fits into their budget.
A Compassionate Conversation
Because assisted living is often stigmatized by older adults, you'll want to have all of the necessary information handy, as well as brochures and pamphlets about some of the Miami senior communities you've researched. You want to be completely prepared to have this discussion. Look up the amenities your loved one can enjoy and various locations.
Be prepared for concerns about budgeting; seniors are often aware that assisted living can be costly. Your loved one would no longer incur the expenses associated with homeownership of course, and could use the sale price of the current home to make care more affordable. A trustworthy professional real estate agent like Eileen Kedersha can help to ensure your senior gets the best price for the home sale as well.
You may be nervous about approaching your loved one about assisted living. Anger, embarrassment, and sadness are all normal reactions you may receive. No one wants to think they can no longer care for themselves, and your loved one may meet you with denial. Give them time (if it's safe to do so), and stay compassionate but firm. It may take convincing for them to trust that this is the right call. Answer their questions as best you can, and remind them this is a choice made out of love and necessity.
A sensitive, compassionate and professional real estate agent is a must when it's time to sell your loved one's home. Connect with Eileen Kedersha for top-notch service and a smooth transaction. Call 954-462-3600 today to find out more. www.sFloridaLuxuryHomes.com