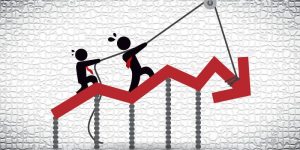 Recession Fears may be Exaggerated
The Housing and Mortgage Market Review (HaMMR) by Arch Mortgage Insurance Company has found that Housing Market Trends are now nearly the complete opposite of conditions in the months prior to the Great Recession, according to Dr. Ralph G. DeFranco, global chief economist for Arch Capital Services.
Research on how past recessions affected home values shows current conditions will have a less severe impact on housing than the recession in 2008 did. DeFranco says "A recession is inevitable at some point, but it's likely to be far less severe for the housing market than the Great Recession," He goes on to say that "We estimate that the current market is underbuilt by 1 million or more homes, buyers are more cautious and loan quality is far higher. In 2007, conditions were completely flipped: housing was hugely overbuilt, speculative demand was off the charts and the market was awash with high-risk loan products."
Franco further states, that the quarterly Arch MI Risk Index, a statistical model based on nine indicators of the health of local housing markets, suggests that the probability U.S. home prices will be lower in two years is 9 percent, an increase from 6 percent in the previous study.
In Florida, an Arch index infographic suggests that Florida home values have only a 6 percent chance of declining in two years. However, a higher risk (25 percent) in Miami suggests the chances are even lower in the rest of the state.
Nationally, the overall risk of a decline in home prices remains better than the historic average of 17 percent. Every state is expected to have positive home price growth over the next two years, continuing recent trends. © 2019 Florida Realtors®
Eileen Kedersha, Broker Associate One Sotheby's International Realty – Kedersha Group 954-561-4100 EKedersha@OneSothebysRealty.com