Prepare for a Career Relocation With This Pre-Move List of Essentials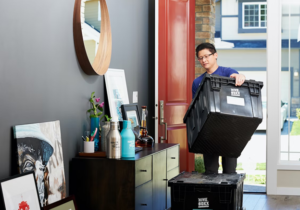 Making your first major move is an intimidating prospect, but many people before you with fewer resources have made it work. Don't fear that you won't be able to complete the task successfully. Apply these suggestions and avoid common pitfalls while relocating for work.
Drawing Up a Written Plan
Your most essential tool throughout the moving process is your organizational ability. When you can quickly locate necessary items and answer questions, relocation proceeds smoothly. Set your move date and work backward by determining the timeline for accomplishing essential details in a written agenda.
Keeping everything coordinated allows you to delegate responsibilities to others in the household and follow up to verify completion. If you must continue to work, you're less likely to miss crucial deadlines and meetings while managing your move.
Taking Your Business to a New State
If you're a business owner heading to a new state, check the legal requirements. You don't have to move an LLC to your new state, but you are required to register. If your new location offers legal or tax advantages, consider transferring the LLC if allowed. You could also dissolve the entity and form another, but this process is more complex.
Article written by Brittany Fisher: Financiallywell.info
If you choose to set up a new LLC, you can save money by filing yourself or using a formation service instead of a lawyer. Since regulations for forming a business entity differ by state, check the local rules before proceeding.
Migrating to Find Fresh Opportunities
Transferring can be an intelligent move if you received a healthy severance after a layoff or have the resources to find greener pastures in a flourishing market. Do a self-assessment to point yourself toward the right career and location. Research where jobs are plentiful and compare the median incomes to the cost of living and housing.
For example, Florida continues to boast low unemployment rates in recent statistics. The lovely Fort Lauderdale area is an excellent market for a home purchase as prices show a steady increase, meaning property remains a wise investment. Currently, the average sale prices sit just below $1.2 million, and the recent increase in inventory gives buyers favorable circumstances. Rent is a bit steeper, running from $2,100 to $3,300 a month, but this is another incentive to buy since homeowners can make substantial passive income from rentals.
If you haven't settled on a position, include the job search in your written attack plan. Add crafting a resume to your to-do list. Help your work history stand out by using a free online resume builder. Select a professionally designed layout and add your text, some eye-catching colors, and a few photos or images.
Hiring Professional Help
Determine how much your time is worth and use that data to decide what cleaning, packing, and loading you should do and when you are better off hiring a pro. Sitters can watch the children while you're busy with work and moving details. Cleaners leave your current home spotless for sale or receiving your deposit.
Transplanting for your career can be one of your best decisions, opening the path to exciting new opportunities. Prepare well with these tips and a well-written resume and enjoy this new phase of your life.
Working with experienced real estate agent Eileen Kedersha saves time finding the perfect property and earns you a better sales price on your current home.
Explore the home listings offered by Eileen Kedersha, a Broker Associate with ONE Sotheby's International Realty, Let's Connect: 954-462-3600 | https://www.sfloridaluxuryhomes.com/ | EKedersha@OneSothebysRealty.com.